Cover Story: RMA Worldwide Chauffeured Transportation: Being Awesome in D.C.
Published: 2019, December 19
BY ROB SMENTEK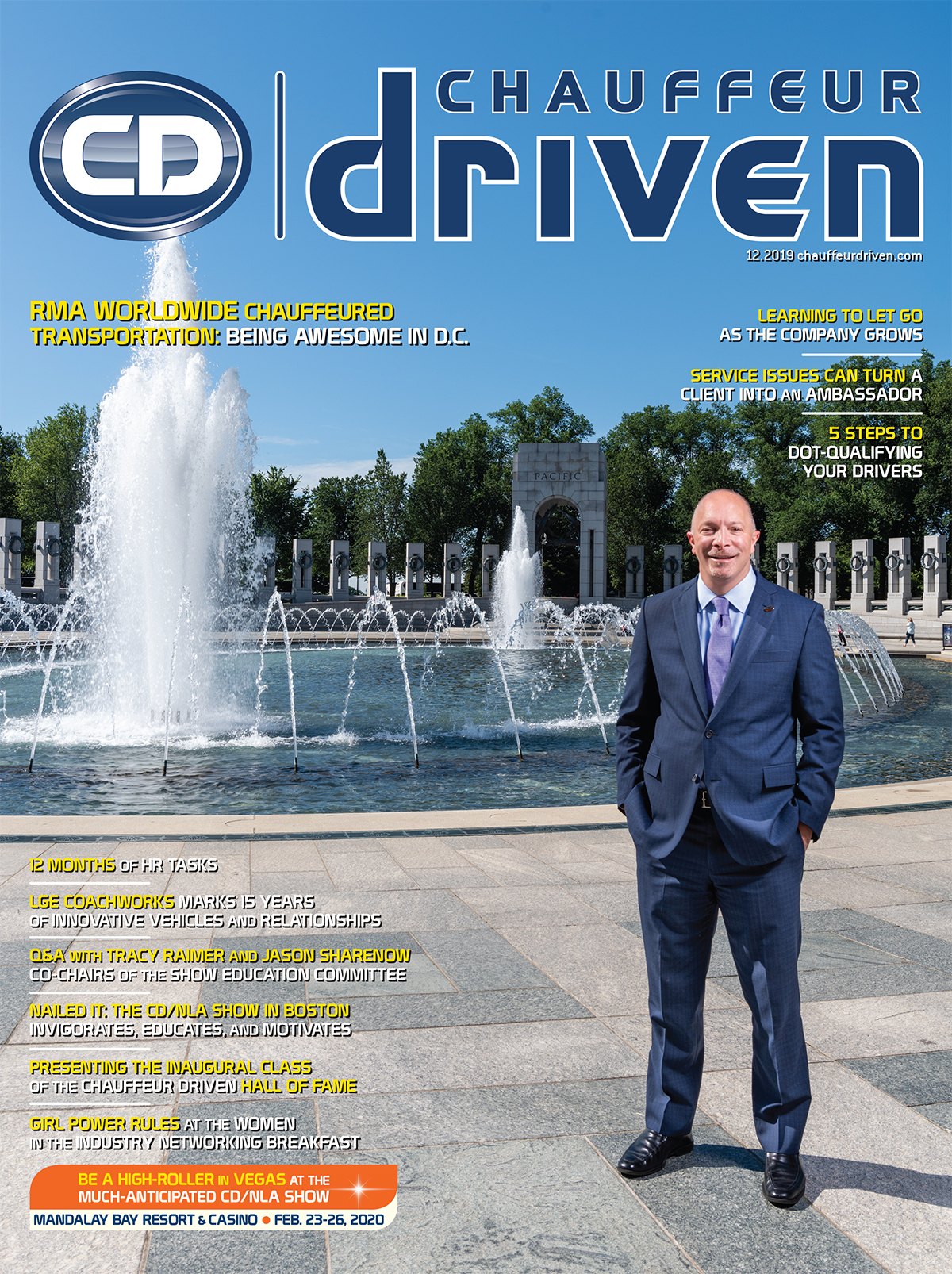 Cover Art: RMA Worldwide President & CEO Robert Alexander at the World War II Memorial in Washington, D.C. Photography by Andrew Schneps of Back Bay Photography.When it comes to success in the luxury ground transportation industry, RMA Worldwide CEO Robert Alexander offers up two words of advice: "Be awesome."
This is something of a mantra to the Rockville, Maryland-based operator, whose company is recognized as an industry leader with more than 600 employees, close to 400 vehicles, and offices in five cities between Delaware and Virginia. Clearly, it's safe to say that Alexander and his company have certainly achieved an undeniable level of awesomeness.
But, these days Alexander is more interested in passing that philosophy onto his staff and the industry at large.
"I want to see people be successful—and to see people be successful even in my market. I need good people to work with," says Alexander. "In my company, I want people to come to work every day and be awesome. What does awesome mean? For me, it means making a difference. Come to work every day and make a difference in a positive way."
An Awesome Start
When Alexander began his professional career behind the wheel, he wasn't driving a limousine or even a black car or taxi. It was a 1988 Saab.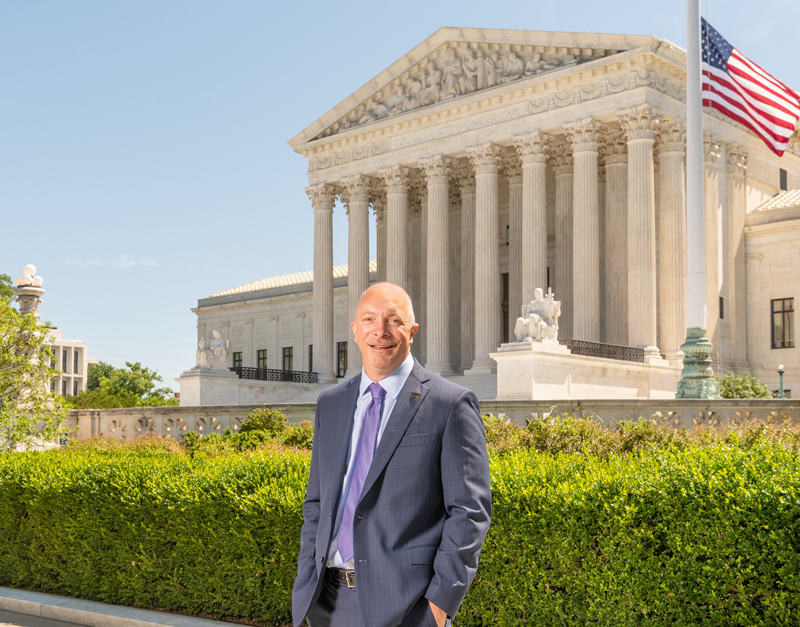 RMA Worldwide President & CEO Robert Alexander at the Supreme Court Building in Washington, D.C."Before my senior year of college, a lady in my neighborhood asked me to take her and her dog to the vet. She asked me to run some errands for her, and I said sure. It was a great way to make a few extra bucks. She told some other ladies in the neighborhood about me and soon I was doing that for them, too."
After graduating college, Alexander threw the proverbial dice and took a chance on turning his errand-running business into a full-fledged enterprise. The gamble paid off, and the entrepreneur saw success with his company Errands Plus Inc., which remains the parent company for all of Alexander's business endeavors.
"The company really should have been called Anything for a Buck," jokes Alexander. "Because that's what I was actually doing."
While Alexander pokes fun at his mercenary-like tendencies during his formative years, he confesses that his bank account was never a driving factor in his quest to be awesome.
"In my company, I want people to come to work every day and be awesome. What does awesome mean? For me, it means making a difference."
– Robert Alexander, President & CEO of RMA Worldwide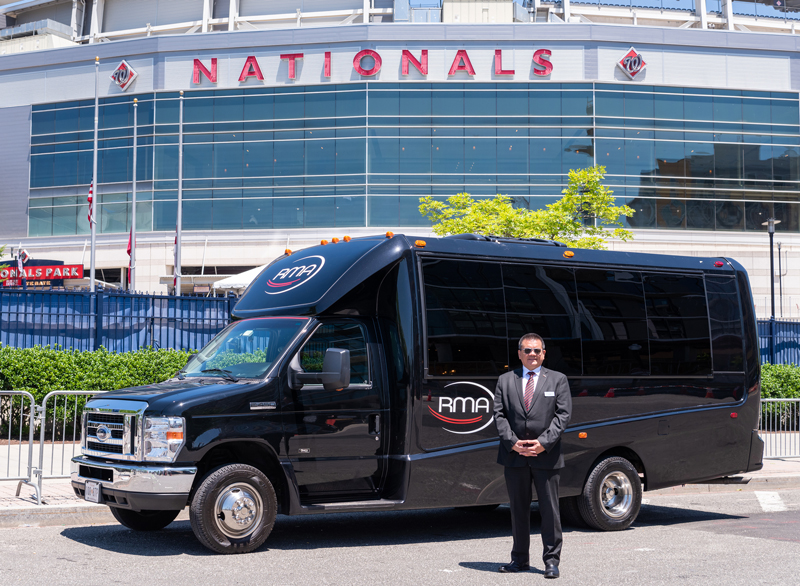 Chauffeur Jose DeCastro with a Grech Motors GM28 at Nationals Park, home of the 2019 World Series Champions Washington Nationals"It was never a paycheck that motivated me. I was fortunate that I came from a very successful family who supported me. I could go talk to them when I needed good advice along the way. I wanted to be in business, but I realized if I went to work at a big corporation, I just wouldn't have been successful. I knew I wanted to run a business, and it just happened that this one fell in my lap. It was easy to take a chance. My parents were supportive and glad to see that I found my passion and was working hard. I had the luxury to succeed—or fail—and I started finding success early on."
Alexander's early years were spent learning, absorbing, and just being a sponge when it came to gaining advice or insight. When the opportunity presented itself to enter the limousine business, he jumped in with both feet and secured his first account with a Marriott hotel near his home in Maryland. And while he soon was making airport runs in his "glued together" 1985 Chrysler limousine, he would glean and implement advice from the executives in the backseat, and soon he saw a path that would let him eschew the errands for good.
"I was fortunate enough that one of my first accounts was Marriott Suites. I was young and single, so I basically would go there, hang out, and take people to the airport. In the process, I was able to learn what service looked like: Marriott would check people in efficiently, give them an immaculately clean room, and make the checkout process just as simple—and they'd do it consistently every time. From that perspective, I realized that if you could do that with a car service and create a consistent product that would get rid of any the friction points, you'd win. And winning is getting more business. I learned the Marriott way early on, and that remains the foundation for where we are."
Success came quickly to Alexander's new enterprise: Before long, the Chrysler limousine was replaced with a growing fleet of Town Cars and limousines. In 1992, he officially branded RMA Chauffeured Transportation as a livery company serving one of the country's biggest—and most congested—transportation hubs: the Nation's capital.
An Awesome Market
Located in the southern point of the Northeast Corridor, arguably the most-traveled sector of the United States, the D.C. metro area is home to more than 6 million commuters, who head in and out of the city limits for work and education—the outlying region is home to a staggering 28 universities.
The District also consistently ranks as one of the most visited areas in the country. While Washington tourism may conjure up images of yellow school buses circling the White House, in fact more than 22 million visitors flock to Washington, D.C., each year to take in its monuments, landmarks, and museums.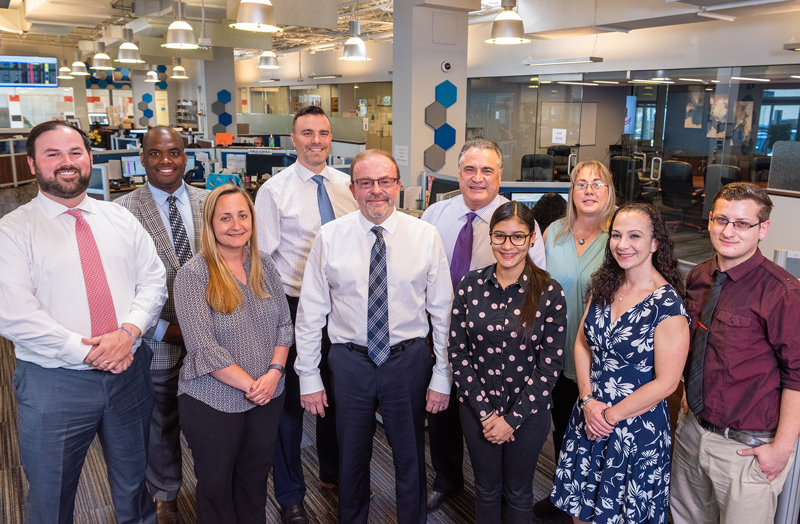 The RMA sales & events team (L to R): Andrew Mauro, Kevin Polite, Kim Sheahin, Barry Shannon, Art Miesemer, Sid Colen, Yuris Cruz, Kendra Mather, Lauren Nock, and Jamen VerrilloAnd, of course, it goes without saying that Washington, D.C., is synonymous with American politics. To accommodate the steady flow of visiting politicians, lobbyists, dignitaries, attorneys, and media representatives, Washington has three major airports—Ronald Reagan Washington National Airport, Dulles International Airport, and Baltimore/Washington International Thurgood Marshall Airport—and is a major hub for Amtrak. So, while it's crystal clear that the region is rife with opportunity for a luxury ground transportation operator, it's not without its challenges.
"Man, traffic is horrendous," laughs Alexander. "We certainly don't have a monopoly on it, but we're ranked within the top five worst traffic areas in the country."
During rush hour on any given day, the infamous Capital Beltway, a stretch of Route 495 that surrounds Washington, D.C., and Alexandria, Va., looks more like a parking lot than an interstate highway. A recent study by the Texas A&M Transportation Institute stated that drivers in D.C. spend on average 102 hours each year in traffic delays, with 38 gallons of excess fuel spent per driver annually, ultimately costing commuters $1,840 each year.
In addition to the brutal gridlock, Alexander says that D.C.'s continued growth has created some service challenges: "The geographic area we serve is large—north of Baltimore down to Richmond and Charlottesville. For us, Washington is on the curve of development. The more successful the city, the further beyond city limits your industrial properties are going to be, and people who work for you will be further out."
However, facing these difficulties head-on and delivering consistent and quality service has worked in RMA's favor.
"There's always these little 'hot spots' with customers, and if you can exceed them, you'll win their business," says Alexander. "For instance, if you have a 15-bus job and one of those buses breaks down but you have a replacement there in less than 30 minutes, that's a big differentiator for clients."
He adds: "For us, it's being really good at figuring out what makes each individual client tick. Say it's a meeting planner, and they want manifest management or onsite notification. They don't want to see a change in the service whether they're using a coach or sedan. Or we might have a government contract, where they're price-sensitive but no frills… Or sports teams that need help with the equipment … Or a shuttle contract that wants clean vehicles with friendly chauffeurs. Everybody has their own twist, and the key is zeroing in on their wants and needs and delivering each time."
Like many in the industry, motorcoach work has been something of a game-changer for RMA. The work made available by having coaches in their fleet has diversified their service, and has made their traditional late-summer slow period a non-issue. Alexander purchased his first motorcoach three years ago; RMA now has 16 in its fleet.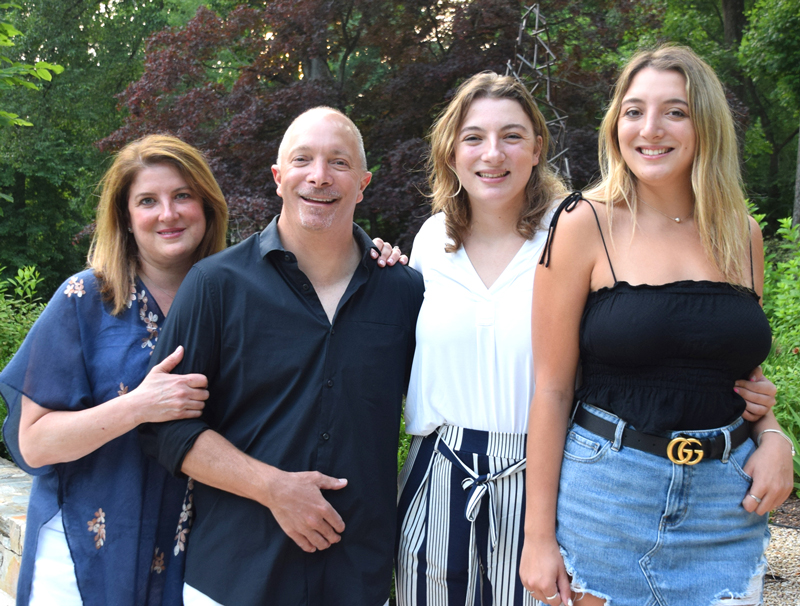 The Alexander family (L to R): wife Melchora, Robert, and daughters Ashley and Madison"[Getting into coaches] is complicated because it's not a pure chicken-or-the-egg thing. This business is always a balance of do you get the work because of the vehicles, or do you get the vehicles from the work? I've always believed that it's the work, then the vehicles," he says.
After years of farming out runs to motorcoach operators, RMA eventually landed a contract that required them to have one in their fleet. Professional chauffeurs, a well-maintained vehicle, and all-around luxury service proved to be a winning combination with their customer base.
"With motorcoaches, more so than anything else, the clientele puts a premium on a newer and nicer bus than, say, a sedan," Alexander explains. "What we also discovered, once you have critical mass, the sky is open. For instance, if you own two or three buses, you can't necessarily handle big moves, and a meeting planner will still have to farm out the job. But, if you have seven or eight coaches, they can use you for those group moves, and realize you're going to be there. That makes a difference."
An Awesome Culture
As RMA Worldwide expanded over the years, Alexander has made a concentrated effort to create a company culture that not only provides a positive environment where people want to work, but also encourages his staff to be creative in their problem solving. While many owner-operators are hesitant to delegate responsibility to managers and subordinates, to Alexander, it's been integral to his culture.
"A big part of my success has been that I understand it all. I've driven the cars and I've done the billing, but I've come to realize that wasn't my best use. My highest and best use is giving people a mission, supporting them, and letting them achieve that goal, while giving the freedom to do it. Everybody's empowered in this company. If a customer comes to us with a challenge, each employee is empowered to make it happen," he says.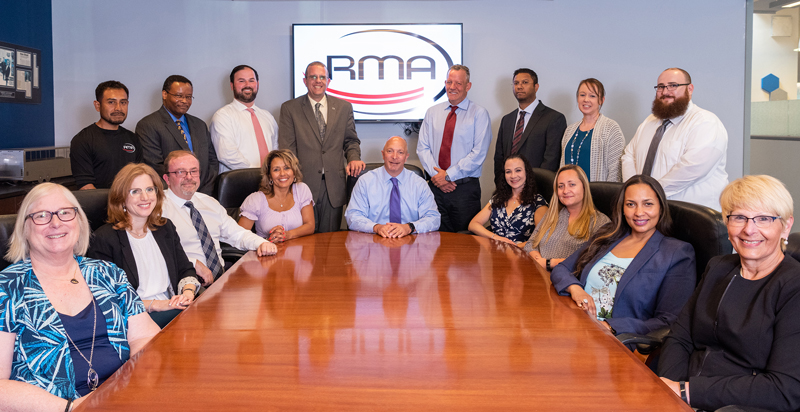 Standing (L to R): Detail Supervisor Milton Ayala, Director of Operations Joseph Herbert, Marketing Manager Andrew Mauro, Dispatch Manager Marc Stefl, Fleet Manager Joe Boggs, IT ­Manager Jasen Gooriah, Local Affiliate Manager Randi Swartz, and Reservations Manager Aaron Sperling. Seated (L to R): Vice President of Administration Lynn Alexander, Jennifer Freedman, Art Miesemer, Gigi Bridgers, Robert Alexander, Lauren Nock, Business Development & Affiliate Relations Manager Kim Sheahin, Chauffeur Manager & Recruiter Yvette Pilarte, and Vice President of Employee Relations Joan Silverman.To foster a culture of empowerment, meetings are frequent at RMA's offices, and the discussion often veers to winning and success, and how goals are achieved collectively as a team. Alexander encourages all employees to speak up and be heard. "If someone has an idea, then we want to hear it. Even if it turns out to be not such a good idea, that's OK. We'll talk it through to make it a better one."
Currently, RMA employs more than 600 people, including chauffeurs and back-office support. Between acquisitions and a steady spate of new hires, that number continually grows.
"We're hiring nonstop; we can't hire quickly enough," says Alexander.
Alexander believes that RMA attracts a certain type of candidate. "We have many talented people here. I believe that people like being part of our team because there is a magnetic energy. It's exciting, and they know they have the opportunity to make a difference—and they gravitate toward that."
But like any good CEO, Alexander has a core staff who he can depend on regardless of the challenge. Among the core operations/management team whom he leans on to help make decision, Alexander cites Controller Jennifer Freedman and Vice President of Finance and Operations Gigi Bridgers as key members of the organization as well as Director of Events & Client Development Lauren Nock, who's been with RMA for 22 years, and Sr. Vice President of Business Development Art Miesemer, who has a quarter century with the company.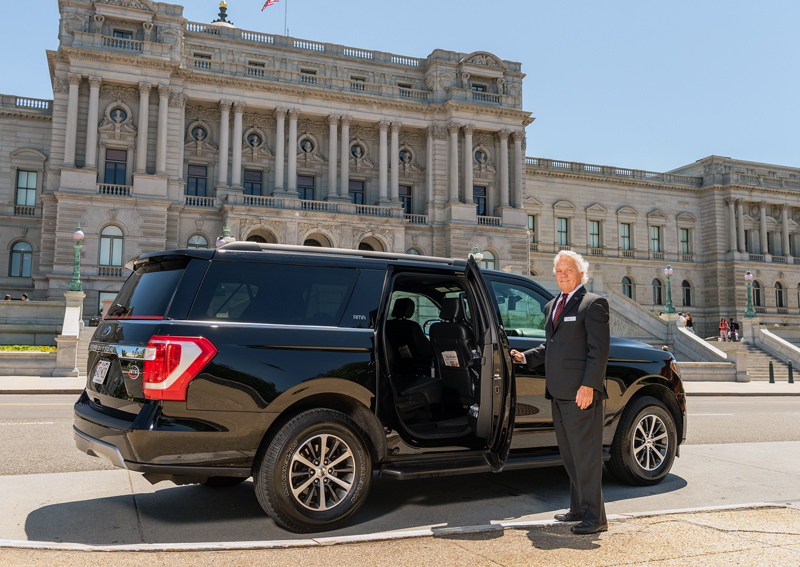 Chauffeur Leroy Wilner at the Library of Congress in Washington, D.C."Robert really believes that it's the people who make up the company," says Nock. "Although he's a leader, he doesn't want to take all the credit. Robert really likes to empower his team to make decisions. He likes to focus on the company and where we're going—big-picture stuff—as opposed to the day-to-day minutia."
Nock joined RMA as a part-time reservations agent when she was a student at the University of Maryland. Immediately, she took to the fast-paced atmosphere of the company; when Alexander offered her the opportunity to come aboard full time after she graduated, Nock accepted and hasn't looked back.
"Robert likes to promote from within so we can learn everything and work together as a team in order to manage what's going on in order to grow the company," says Nock. "He really prides himself on knowing everybody and knowing who they are, and learning their talents so he can get the best out of them for themselves and the company. We've really grown exponentially over the past few years."
An Awesome Environment
In response to the steady growth experienced by RMA, Alexander purchased a new headquarters in 2011. When it came time to renovate the former biotech office building, the CEO took inspiration from the new wave of technology companies to create an environment more in line with tech powerhouses like Amazon and Google than the drywall and drop ceilings equated with office spaces.
"Our office is all glass. It's transparent—like our company," says Alexander. "We work together as a team, so having all the offices glass spurs activity. I can look out my door and see what's going on in the detail bay. You have to put people in a great environment if you want them to be great to customers. You can't put them in a mediocre office and say 'be awesome.' We spent a year and a half on renovations to make something progressive and cool that will attract people of all ages who want to work in a neat environment."
In May 2019, RMA Worldwide added 215 people to its staff when the company purchased Kane International Limousine Service. While acquisitions are nothing new to Alexander, it was one of the biggest M&As in the luxury ground transportation space. When the contracts were signed, it made RMA the single largest operator in the D.C. area.
"There's always these little 'hot spots' with ­customers, and if you can exceed them, you'll win their business. … For us, it's being really good at figuring out what makes each individual client tick." – Robert Alexander
"It's a weird time for the industry," explains Alexander. "Many operators are super busy, while simultaneously a lot are selling. Once people start getting out, it makes it easier for others to do the same. So, we're on the lookout for opportunities, but we're not looking to buy just to buy. Synergy is such a cliché, such an overused word, but we're always looking for companies that would be a good fit with ours or expand our footprint."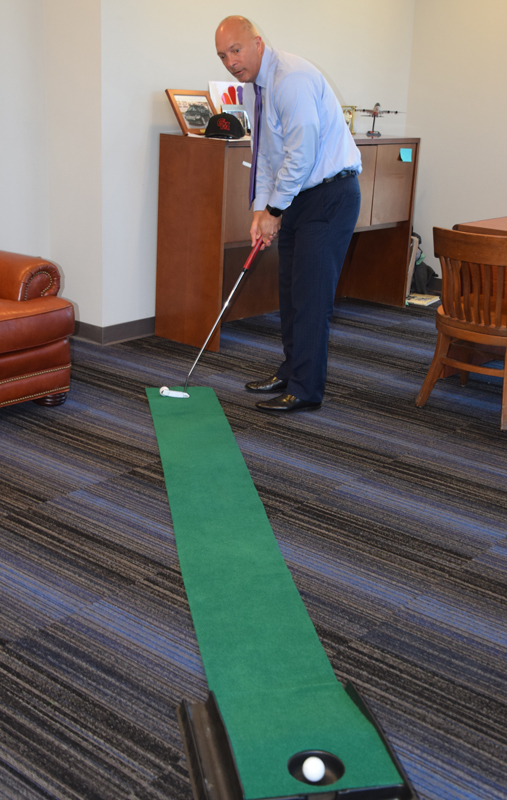 Robert Alexander sinks a long putt at the RMA HQAn Awesome Industry
In addition to manning a massive chauffeur ground transportation firm, and finding time to travel with his wife and two daughters (and maybe catch a round of golf), Alexander is also treasurer of the National Limousine Association (NLA), and serves as a co-chair of both the Legislative and the Charity committees. A member of the NLA since his formative years in the industry, Alexander says that membership afforded him the chance to absorb and learn from peers and mentors. Now that he is something of an elder statesman, he is thrilled to have the roles reversed.
"Being part of the NLA gives me a platform to meet people and give something back. The industry has been good to me," says Alexander. "The NLA's great because we provide education and add value, which makes it easy for people to be better at what they do. As John F. Kennedy said, 'a high tide rises all ships.' If I can do something on the legislative side to benefit the industry, then it will benefit me too."
Alexander is a frequent face and speaker at industry events, ranging from regional association meetings to trade shows. During the 2019 Chauffeur Driven Show in Boston, he joined colleagues Brett Barenholtz of Above All/Boston Car and Doug Schwartz of Executive Ground Transportation for a standing-room-only State of the Industry panel. Alexander truly enjoys offering his perspective to see the industry advance.
"If a five-car operator reads this story and finds something that makes them look at their business differently, that excites me. I think that's part of the process."