About Us
At RMA, a "good" ride simply isn't good enough. We want our clients to experience the absolute best service they've ever had from a transportation company. Every ride. Every time. In any city where you need a car—from Washington DC to Washington State, from Boston to Buenos Aires, and from Uptown Manhattan to Down Under in Australia. When you need a car, we'll be there.

We have locations in Washington, D.C., Richmond, VA, New York City / Westchester County, New York City / New Jersey, Boston, MA, Houston, TX, and Austin, TX.
Our History
Over thirty years ago, Robert M. Alexander visualized creating a transportation company that would provide world class service to each of its clients. He learned the importance of hard work early on, and armed with a strong belief on his relationship-building skills and a business plan, he launched Errands Plus. The one-car errands service was geared towards senior citizens and operated out of his basement. He began to appreciate the value people place on timely solutions. He reinvested every penny and built his business up into what is now RMA Worldwide Chauffeured Transportation.
Mission
RMA Worldwide Chauffeured Transportation is a service company managed by well-trained and dedicated employees. Utilizing progressive technology combined with luxury and executive style vehicles, we maintain our reputation for being first in client satisfaction.
Leadership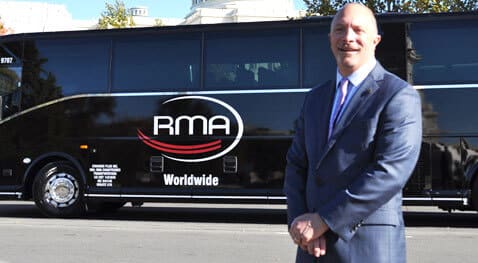 Robert Alexander has been the President and CEO of RMA Worldwide Chauffeured Transportation since its founding back in 1988.
Over the years, Robert has worked to not only build up his own business, but also work for the betterment of the entire limousine industry by serving on the Board of the National Limousine Association for the last 10 years, as well as serving as Treasurer and Co-Chairing the Associations Charity Committee.
In addition, Robert has served as the President of the Washington Metropolitan Limousine Association.
Affiliated Companies
With its home base of operations in the Washington, DC area, RMA Worldwide Chauffeured Transportation is also proud of its affiliated companies. These include:
RMA BP is an automotive service center located on 1910 Rockville Pike, in Rockville, MD. Whether it's a quick fuel stop, a brake job or even a larger repair, our qualified staff gets the work done on time at affordable prices. We provide a wide range of services for foreign and domestic cars, making us your one-stop repair shop for all your automotive maintenance needs. Our snack shop serves the hottest and freshest coffee all day long, and carries everything you need for that quick stop on the way to or from work.
For more information, visit RMA BP here.
The Bethesda Circulator is a convenient, dependable and free way around Bethesda, MD! These clean, modern buses arrive approximately every 10 minutes, with all of your favorite places to visit on or close to the Circulator's route. So leave your car at home, hop on the Circulator, and let it take you to one of Bethesda's renowned dining or shopping destinations.
For more information, visit Bethesda Circulator here